INTERNATIONAL CONFERENCE 2015


"FOUND IN TRANSLATION" –
TRANSLATIONS ARE THE CHILDREN OF THEIR TIME
with the topic
SYNCHRONY AND DIACHRONY IN TRANSLATION, INTERPRETATION AND TERMINOLOGY
10-YEAR ANNIVERSARY OF THE SPECIALIZATION TRANSLATION AND INTERPRETATION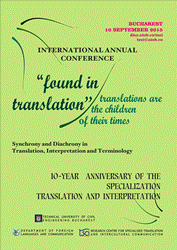 In the context of linguistic diversity, which comprises more than six thousand languages, our world would be inconceivable without translation. Linguistic plurality along with the increase in economic, technological and cultural exchanges establish translation as a unique method of uniting this diversity, being the concrete outcome of the endeavour of mankind to overcome linguistic and cultural barriers. This should not lead to the erroneous understanding that translation is an a priori phenomenon of the modern society. From time immemorial the need to communicate beyond linguistic borders has caused translation to find its way into the most varied contexts: among merchants and scholars, politicians and spies.
Although it has been around from time out of mind, translation is, paradoxically enough, a young science which rather than clearly delineating its scope, is open to innovation, knowledge, experimentation and self-discovery, having an enormous creative potential. According to Paul Ricoeur, "translation cannot be reduced to a technique practised spontaneously by travellers, merchants, ambassadors, smugglers and traitors, and established as a discipline by translators and interpreters. It constitutes a paradigm for all exchanges, not only from language to language but from culture to culture"*.
The anniversary international conference of the Department of Foreign Languages and Communication of the Technical University of Civil Engineering Bucharest celebrates ten years since the creation of the specialization Translation and Interpretation. We invite you to participate with contributions on topics related to translation, interpretation and terminology from various theoretical and methodological perspectives. Our particular interest lies in investigating the place that these three disciplines occupy in universities today, as well as in the future of translation and interpretation practices, and of these professions in the context of today's global village. And all this considering the great pressure of using English as lingua franca, which sometimes separates us more than unites us.
MAIN SECTIONS:
1. Translation and Conference Interpreting Studies
2. Literary and Intercultural Studies
3. Terminology and Lexical Studies
KEYNOTE SPEAKERS:
Cristiana Nicola TEODORESCU, Universitatea din Craiova
Manuel MOREIRA DA SILVA, Instituto Superior de Contabilidade e Administração do Porto
The Conference programme, together with the book of abstracts are available in PDF version.
Before submitting their article for peer-review, contributors are kindly ask to carefully read and follow the Guidelines available in the page Guidelines for contributors.
Photos taken during the conference are available at this link.