INTERNATIONAL CONFERENCE 2016


BEYOND WORDS AND INTO THE MESSAGE
with the topic
BUILDING COMMUNICATION ACROSS LANGUAGES, MEDIA AND PROFESSIONS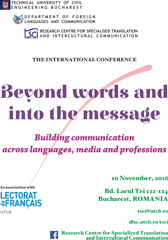 Our world is basically made up of words, the very essence of communication. These words find their way among us in one big conversation. In James W. Carey words: "Life is a conversation".
This holds good even more so when it comes to conveying our thoughts across the borders of language, culture, country and profession. The conversation between individuals on different sides of these borders is enlarged by an instance of otherness while crossing into many instances of translation.
We invite you to discuss these topics in the following sections of the conference:
Communication and Language Studies
Literature and Cross-Cultural Studies
Translation and Interpreting Studies
Communication and Language Studies
The growing need for mediation and communication across cultures for a variety of professionals in a broad range of fields calls for a fresh theoretical framing of practices involving social activities. These are not to be relegated to fixed and separate systems for, in the words of Mahatma Gandhi, "No culture can live if it attempts to be exclusive".
This section of our conference welcomes papers on topics including, but not limited to:
Communication theory and theories
Digital media and online communication
Professional communication
Media and education
Visual and non-verbal communication
Cross-cultural communication
Language learning and teaching
Discourse analysis and applied linguistics
New trends in linguistics
Literature and Cross-Cultural Studies
"Great literature is simply language charged with meaning to the utmost possible degree." (Ezra Pound). In one way or another literature has accompanied mankind for thousands of years. The need to tell and listen to stories is inherent to human nature, just as language and cognition are intertwined. Nevertheless, several questions should be addressed, such as: How much have the topics of literature changed and diversified? To what extent has modern narration influenced storytelling? What is its cross-cultural impact on literature?
In order to provide answers these questions (and others) this section welcomes papers on topics including, but not limited to:
Media and cultural identity
Postcolonial studies
Gender studies
Minority literature
Literary and political relations in cross-cultures
Historical approaches to literary studies
Comparative literature
Translation and Interpreting Studies
In the last two decades, the contribution of translators and interpreters has become essential in the coherent transfer of (specialized) information. Today the concept of translation goes deep beyond the simple knowledge of terminologies and has expanded to cover a wide range of factors, which can only be learned, understood and applied efficiently by means of a thorough academic training.
This section aims at debating over the following areas in connection with the role of translation and interpreting today:
Translating and interpreting as mediating between cultures
Conference interpreting: trends and developments
Ethical issues in translation across cultures
Training and practice in translation and interpreting
Literary vs. specialized translation: competition or compatibility?
New media support in translation
Social network language and its impact on speaking and translating

KEYNOTE SPEAKERS:

Titela VÎLCEANU, Universitatea din Craiova

Hermann SCHEURINGER, Universität Regensburg

The Conference programme, together with the book of abstracts are available in PDF version.

Please refer to the venue page for the Welcome Guide with details about transportation, how to get to the Conference rooms, suggestions for visiting Bucharest, etc.

Before submitting their article for peer-review, contributors are kindly ask to carefully read and follow the Guidelines available in the page Guidelines for contributors.