INTERNATIONAL CONFERENCE 2016

BEYOND WORDS AND INTO THE MESSAGE
with the topic
BUILDING COMMUNICATION ACROSS LANGUAGES, MEDIA AND PROFESSIONS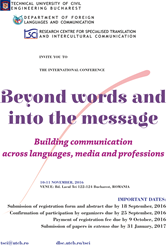 ORGANIZER: The Department of Foreign Languages and Communication -
Technical University of Civil Engineering, Bucharest
10 NOVEMBER, 2016
Download Call for Papers in English and French
MAIN SECTIONS:
1. Communication and Language Studies
2. Literature and Cross-Cultural Studies
3. Translation and Interpreting Studies
KEYNOTE SPEAKERS:
Titela VÎLCEANU, Universitatea din Craiova
Hermann SCHEURINGER, Universität Regensburg
The Conference programme, together with the book of abstracts are available in PDF version. Further details availalble on the Conference web page.
We are looking forward to welcoming you in Bucharest!